MICROWAVING
EGG & CHEESE ENGLISH MUFFIN SANDWICH
INGREDIENTS
1 English muffin
1 slice of low fat cheddar cheese
1 egg
INSTRUCTIONS
Spray a microwave dish with non-stick cooking spray
Crack egg into the dish
Whip egg with a fork
Cover the egg with a paper towel and put dish into the microwave for 45 seconds.
Toast english muffin with cheese in the toaster oven while your egg is cooking
Once the egg has finished cooking, place the egg between the english muffin.
Congratulations! You have made a quick and easy sandwich that tastes better than any drive-thru sandwich. And, your sandwich has less fat and calories!
Alternative ways of preparation
Use a bagel instead of an English muffin
Top your sandwich with low-fat deli meat such as ham or turkey
Add tomato
Add mustard
---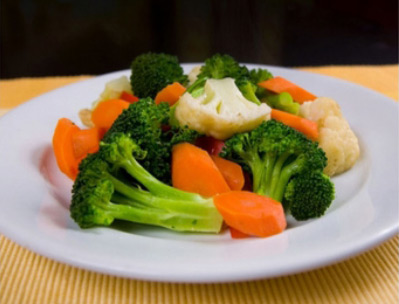 STEAMED VEGETABLE SIDE DISH
INGREDIENTS
1 bag of mixed vegetables
INSTRUCTIONS
 Add vegetables to dish.
Add the amount of water that would be used to rinse vegetables (about two inches).
Microwave for at least 10 minutes or until vegetables are tender.
Once vegetables are finished heating, drain water from vegetables.
---
BAKED POTATO
INGREDIENTS
INSTRUCTIONS
Add baking potato right on the glass plate.
Prick the skin with a fork, otherwise it will explode.
Microwave for at least 15 minutes or until potato is tender.
Alternative—if you prefer, you can cook the last 5 minutes in the oven or on the grill for that toasty skin.
---
BREAKFAST RAISIN OATMEAL
INGREDIENTS
2/3 cup oats
1 teaspoon to tablespoon of brown sugar or maple syrup
1/4 teaspoon
table salt
1/4 cups water
INSTRUCTIONS
In an 8 cup microwave-safe mixing bowl, combine oats, brown sugar, or maple syrup, salt and raisins.
Add water.
Mix well to combine.
Microwave on HIGH (100% power) for 4 to 5 minutes or until mixture starts to boil, stirring after every 2 minutes.
Place bowl on counter and let stand for 2 minutes.
Mix well before serving.
---
MEXICAN FIESTA RICE
INGREDIENTS
1/2 cup chunky salsa (mild, medium or hot)
1 1/2 cups reduced-sodium tomato sauce or tomato juice
1/2 teaspoon dried parsley flakes
1/8 teaspoon black pepper
1 1/3 cups uncooked rice
INSTRUCTIONS
In an 8 cup microwave-safe mixing bowl, combine salsa, tomato juice, garlic, parsley flakes and black pepper.
Add uncooked rice.
Mix well to combine.
Cover and microwave on HIGH (100% power) for 5 minutes or until rice is tender, stirring after 3 minutes.
Place bowl on counter; uncover, and let set for 2 minutes.
Mix well before serving.
---
MICROWAVED CORN ON THE COB
INGREDIENTS
1 large ear of corn (in husk)
INSTRUCTIONS
Remove one outer layer of husk and trim both ends with a sharp knife.
Place the unhusked corn in center of microwave and cook on a high setting for 3 to 4 minutes.
Remove from microwave and allow to sit for 2 minutes.
Peel husk to expose kernels by grasping a few layers of husks and peeling back until the kernels are fully visible.
Cut large corn on the cob in two or three pieces or serve whole.
You may microwave more than one corn at a time by placing them in a small roasting bag and allowing 3 minutes per ear of corn.
Brush with your favorite low fat glaze or just serve as a side dish. 8. Garnish with parsley or red or green strips of bell pepper.
Notes