COOKING WITH KIDS
Cooking with kids gets them on board for healthier eating.
INGREDIENTS
3 bananas
1 pint of strawberries
1 pound of grapes
1 can of unsweetened pineapple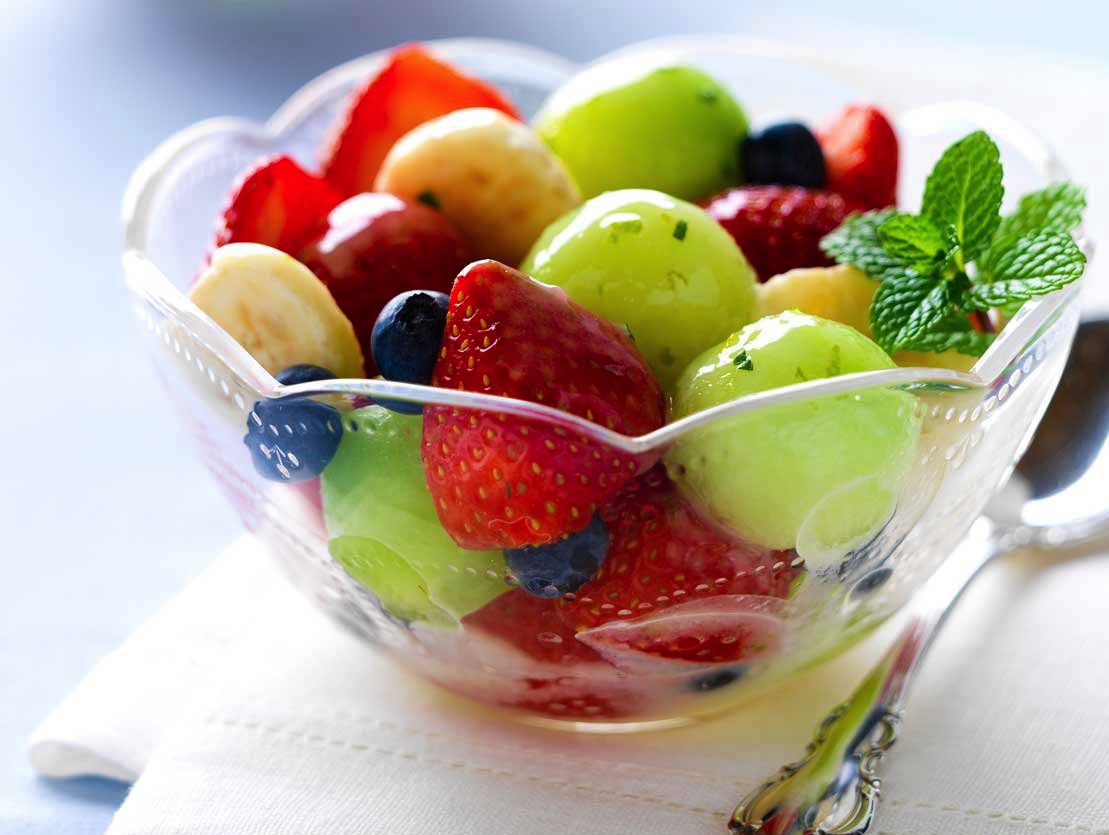 INSTRUCTIONS
1. Wash fruit (this is great for kids to do).
2. Slice bananas, strawberries and pineapple with a butter knife (great for kids).
3. Add all fruit to dish.
4. Add lemon juice to keep bananas (or apples) from turning brown.
Congratulations!!! You have made a quick, easy and healthy
snack with your kids. And the best part is that you both did
it together! Get kids involved in the kitchen when shaping
turkey meatballs or preparing salads.
Alternative ways of preparation
Use whatever fruit is in season
(cantaloupe, watermelon, etc.).

Use canned fruit, but beware of fruit in heavy syrup. This
increases the amount of calories. Be sure to rinse fruit that
is canned in syrup.
COOKING WITH KIDS
Cooking with kids gets them on board for healthier eating.
INGREDIENTS
celery
peanut butter
raisins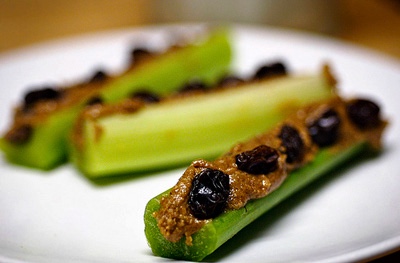 INSTRUCTIONS
1. Rinse celery with warm water (this is ideal for kids).
2. Dry celery pieces (great for kids).
3. Cut celery into pieces (about 5 inches long).
4. Add peanut butter to the u-shaped part of celery, from one end to the other.
5. Add raisins on top of the peanut butter.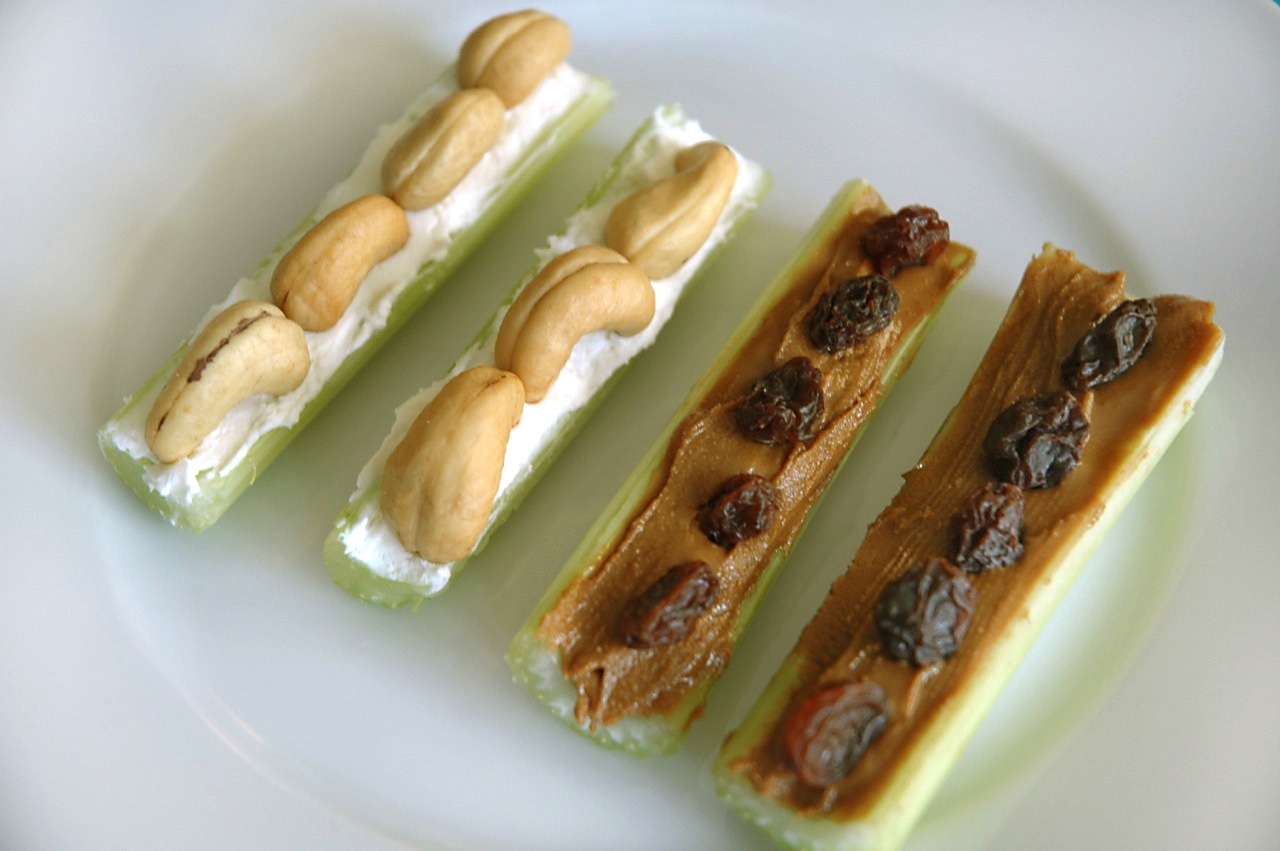 Alternative ways of preparation
Try carrots or apple slices instead of celery

Try almond or cashew butter for a different taste
STACKED FRUIT STICKS
INGREDIENTS
1 cored fresh pineapple (available in sacks or tubs in the produce department)
2 seedless navel oranges
6 large strawberries, hulled (remove the greens with a small paring knife)
6 bamboo skewers (8-inch)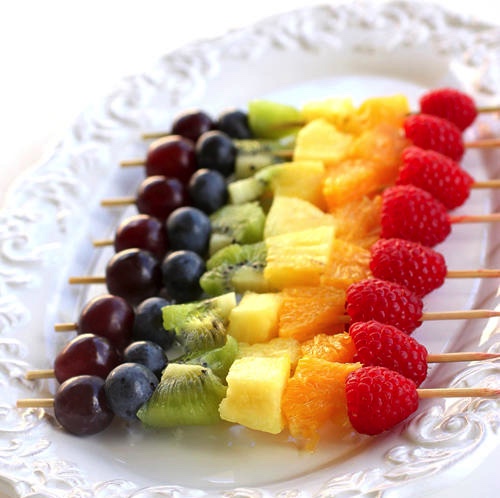 INSTRUCTIONS
1. Cut pineapple into 24 chunks.
2. Cut each orange into 6 wedges. Then cut wedges in half (leave the peel on).
3. Place the pineapples, oranges and strawberries on the skewers, alternating the fruit pieces.
SUMMER BREEZE SMOOTHIE
INGREDIENTS
1 cup yogurt, plain, nonfat
6 medium strawberries
1 cup crushed pineapple, canned in juice
1 medium banana
1 teaspoon vanilla extract
4 ice cubes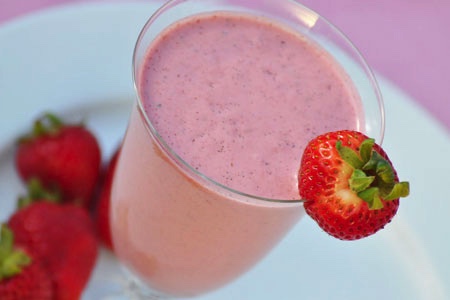 INSTRUCTIONS
1. Place all ingredients in blender and puree until smooth.
2. Serve in frosted glass.
CHICKEN KABOBS
INGREDIENTS
4 boneless, skinless chicken half-breasts, cut into bite-size pieces
3/4 cup (185 ml) teriyaki marinade
8 cherry tomatoes
1 yellow onion, cut into large wedges
1 green pepper, cut into large chunks
8 mushrooms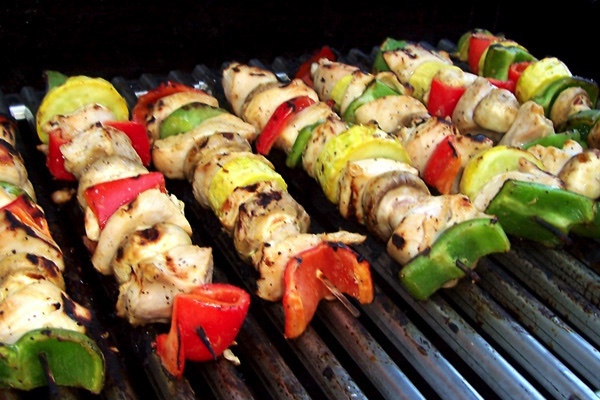 INSTRUCTIONS
1. Marinate the chicken in the teriyaki sauce for 30 minutes in the refrigerator.
2. Place the tomatoes, onion, green pepper, and mushrooms onto skewers, alternating ingredients. Place the chicken on separate skewers for food safety purposes.
3. Over a red-hot grill or under the broiler, cook the kabobs for 10-15 minutes, until the chicken is cooked through (no pink shows in the middle). Serve on the skewer or over a bed of rice.