MORE FAMILY FAVORITE RECIPES
Your family's favorite meals with less fat and calories
INGREDIENTS
Fresh gungo peas, pigeon peas, or canned kidney beans
1 teaspoon olive oil
1 medium onion, finely chopped
1/2 cup low-fat unsweetened coconut milk
1/2 teaspoon thyme 2 cups long grain rice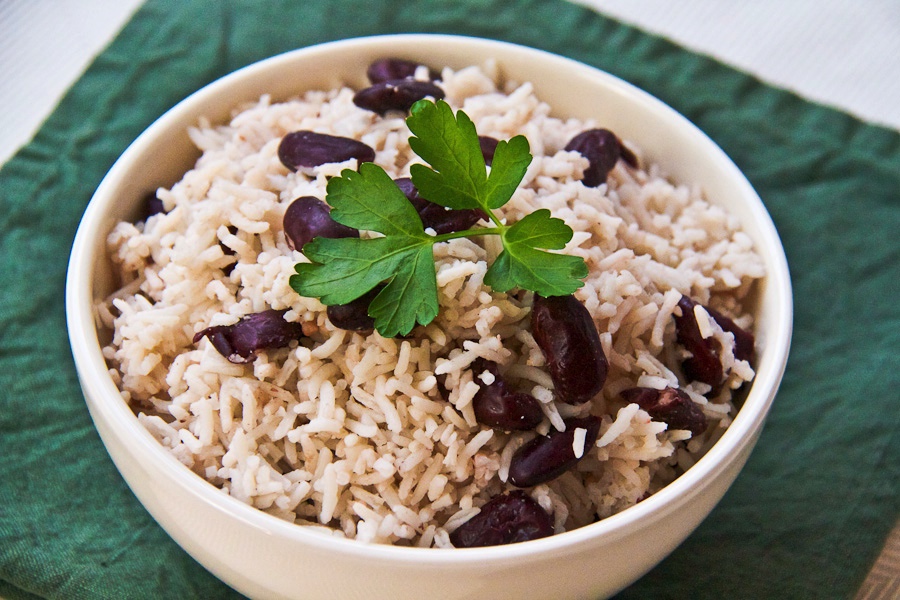 INSTRUCTIONS
Sauté onions in skillet with olive oil.
Boil beans in a large saucepan. Cover, reduce heat, and simmer until beans become tender.
Once beans have finished cooking, drain them. KEEP THE LIQUID.
Make 2 cups of liquid using 1/2 cup coconut milk and water.
In a separate saucepan, add beans, remaining liquid, onions, coconut milk and water, thyme, and rice.
Cover and cook on medium heat for 20-30 minutes or until rice is tender.
Add more water if needed.
Congratulations!!! You have made a Caribbean favorite!!!
Alternative ways of preparation
Add salt and pepper to taste

Add chopped hot peppers

Use pre-cooked beans to reduce cooking time
INGREDIENTS
1/2 lb smoked turkey leg
1 tablespoon house seasoning, recipe follows
1 tablespoon seasoned salt
1 tablespoon hot red pepper sauce
1 large bunch collard greens
1 tablespoon butter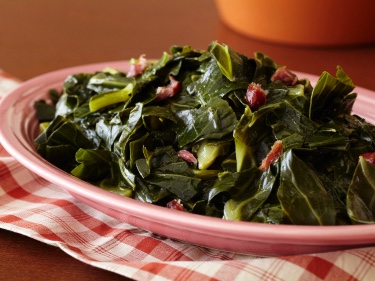 INSTRUCTIONS
In a large pot, boil 3 quarts of water, smoked turkey leg, house seasoning, seasoned salt and hot sauce.
Reduce heat to medium and cook for 1 hour.
Wash greens. Remove stems. Stack leaves on top of one another and cut into slices.
Place greens in pot with meat and add butter.
Cook for 45 minutes to 1 hour. Stir occasionally.
Alternative ways of preparation
Use turnip, mustard, or mixture of greens

Add seasoning to taste
House Seasoning
1 cup salt

1/4 cup black pepper

1/4 cup garlic powder
Mix ingredients together and store in an airtight container for up to 6 months.
1 tablespoon unsalted butter
1/2 minced onion
1/2 green or red bell pepper, chopped ne
2 garlic cloves, minced
1 teaspoon fresh-ground black pepper
1 teaspoon cayenne
1 teaspoon salt
1/2 teaspoon cumin seeds, toasted and ground
1 1/4 lbs lean ground beef
3/4 lb ground pork
1 1/2 cups dry bread crumbs
1/4 cup tomato-based barbeque sauce 3 tablespoons low-fat sour cream
1 tablespoon Worcestershire sauce
1 egg
Milk, as needed
INSTRUCTIONS
1. Preheat oven to 350 degrees.
2. Melt the butter in a heavy skillet. Add the onion, bell pepper and garlic, and sauté until they are softened.
3. Stir in the black pepper, cayenne, salt and cumin, and sauté for an additional 2 or 3 minutes.
4. Spoon the vegetable mixture into a large bowl.
5. Add to the bowl the remaining ingredients, except the milk, and mix well with your hands. The meat should feel quite moist but not soupy. If it's too dry, add a tablespoon or two of milk at a time until the consistency is right.
6. Mound the meat into a 9" x 5" loaf pan. Bake the meat, uncovered for 40 minutes. Raise the oven temperature to 400 degrees and continue baking another 20 to 30 minutes. If you wish, brush with an additional tablespoon or two of barbeque sauce in the last 10 minutes. 7. Serve the meat hot or cold. The meat loaf makes great leftovers and sandwiches.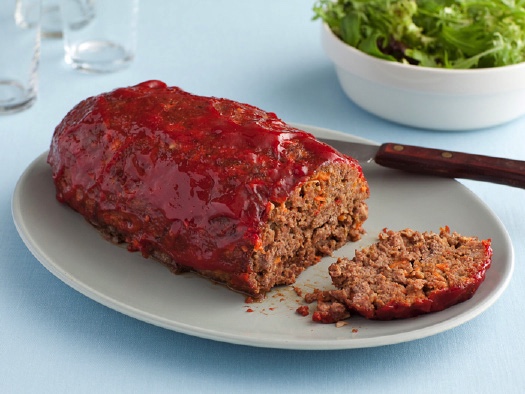 INGREDIENTS
1 1/2 teaspoons curry powder
1 teaspoon thyme, crushed
1 stalk scallion, chopped
1 tablespoon hot pepper, chopped
1 teaspoon black pepper, ground
8 cloves garlic, crushed
1 tablespoon ginger, grated
3/4 teaspoon salt
8 pieces of chicken, skinless (4 breasts, 4 drumsticks)
1 tablespoon olive oil
1 cup water
1 medium white potato, diced
1 large onion, chopped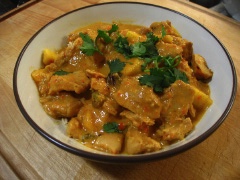 INSTRUCTIONS
1. Wash chicken and pat dry.
2. Mix together curry powder, thyme, scallion, hot pepper, cayenne pepper, black pepper, garlic, ginger and salt.
3. Sprinkle seasoning mixture on chicken.
4. Marinate for at least 2 hours in refrigerator.
5. Heat oil in skillet over medium heat. Add chicken and sauté.
6. Add water and allow chicken to cook over meduim heat for 30 minutes.
7. Add diced potatoes and cook for an additional 30 minutes.
8. Add onions and cook for 15 minutes more or until meat is tender.
Serve hot with your favorite rice dish.
INGREDIENTS
1 (3-to-3 1/2 lb) beef rump or chuck roast 1/2 teaspoon salt
1/2 teaspoon seasoned salt
1/4 teaspoon seasoned pepper
1/4 teaspoon paprika
1 onion, cut into 8 wedges
3 carrots, peeled and cut into 1-inch slices
4 potatoes, cut into eighths
1 celery stalk, coarsely chopped
1 cup beef broth
3 tablespoons cornstarch
1/4 cup water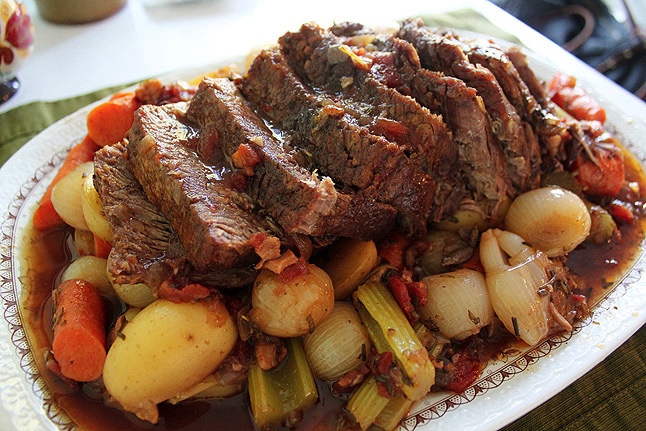 INSTRUCTIONS
1. Trim visible fat from meat.
2. Rub all sides of meat with salt, seasoned salt, seasoned pepper and paprika.
3. Place vegetables in bottom of a slow cooker. Pour broth over vegetables.
4. Place seasoned meat on top of vegetables.
5. Cover and cook on low 8 to 9 hours or until meat and vegetables are tender. To thicken juices, remove meat and vegetables; keep warm. Turn control to high. Dissolve cornstarch in water; stir into cooker.
6. Cover cook on high 15 to 20 minutes or until slightly thickened.
7. Serve with meat and vegetables.
Serves 5