STIR FRYING
Stir frying quickly prepares meals with lots of vegetables.
INGREDIENTS
broccoli
red & green peppers
asparagus
onions
shrimp
pre-cooked brown rice
INSTRUCTIONS
1. Spray pan with a non-stick cooking spray.
2. Add shrimp and heat for a few minutes (if meat, or seafood, has been marinated, discard the remaining marinade).
3. Once shrimp is finished cooking, remove it from the pan and place on a dish.
4. Add a tablespoon of olive oil to a wok or pan.
5. Add vegetables (be careful not to allow vegetables to become too soft).
6. Once the vegetables have nished cooking, add shrimp to the wok or pan.
7. In another bowl, whisk low-fat soy sauce, minced garlic and ginger together for the marinade.
8. Add sauce to nished shrimp and vegetables. Remove from heat after 1 minute.
9. Add stir fried shrimp and vegetables over rice!
Congratulations!!! You have prepared a quick meal with a good portion of vegetables.
Alternatives — lean beef, scallops or chicken can be used in place of shrimp. Also, Asian noodles can be used in place of rice!
SAUCES FOR STIR FRYING
White Wine Worcestershire can be used with scallops or shrimp.
FOR CHICKEN OR BEEF
INGREDIENTS
2/3 cup (160 ml) low-sodium soy sauce
2 scallions, sliced
1 medium onion, chopped
2 teaspoons (10 ml) brown sugar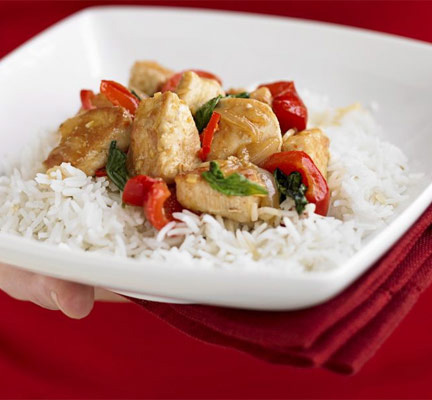 FOR TOFU, CHICKEN OR BEEF
INGREDIENTS
2 tablespoons (30 ml) low-sodium soy sauce
2 tablespoons (30 ml) hot water
2 tablespoons (30 ml) cider vinegar
*MIX WELL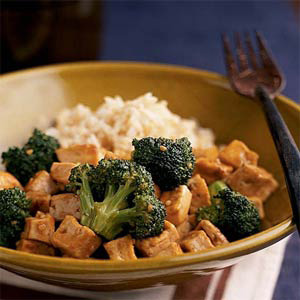 INGREDIENTS
2/3 cup low-sodium soy sauce
1/3 cup low-sodium teriyaki sauce
1/2 cup orange juice
1 tablespoon minced garlic
1 teaspoon dried ginger
1 tablespoon cornstarch
*MIX WELL