OVEN FRYING
Your favorite fried foods with less fat & calories
OVEN FRIED CHICKEN
INGREDIENTS
3 1/2 lb fryer chicken cut into 8 pieces
(or use pre-cut pieces of legs, wings, breasts)
2 cloves of garlic, smashed
1 1/2 cups of breadcrumbs
1 1/2 cups of our
2 1/2 tablespoons of white vinegar or lemon juice
1 3/4 teaspoons of salt
1/4 teaspoon cayenne pepper
1/4 teaspoon paprika
2 1/2 cups of skim milk
1/3 cup dijon mustard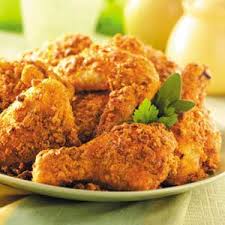 INSTRUCTIONS
1. Combine milk and vinegar or lemon juice together in a large bowl. Set aside for 5 minutes (this will be the buttermilk.)
2. Cut off all skin and fat on pieces of chicken.
3. Place pieces of chicken in a heavy duty cooking bag.
4. Then add buttermilk, garlic, mustard and salt to this bag.
5. Tightly seal and shake the bag.
6. Let bag sit for several minutes. Coat a baking sheet with non-stick cooking spray.
7. Pre-heat oven to 475 degrees.
8. Combine breadcrumbs, flour and spices in a bowl.
9. Place chicken in breadcrumb mixture. Make sure it is evenly coated on both sides.
10. Spray baking sheet with cooking spray. Place chicken pieces on baking sheet bone side up.
11. Cook for 20 minutes. Turn pieces of chicken over after 20 minutes and cook for another 20 minutes.
Sisters, if you prefer your original recipe, use that and add steps 8-11 for a lower fat version.
OVEN FRYING
Your favorite fried foods with less fat & calories
CURRIED SWEET POTATO FRIES
INGREDIENTS
2 to 3 sweet potatoes (about 1 1/2 pounds total)
1 tablespoon canola oil
2 teaspoons of curry powder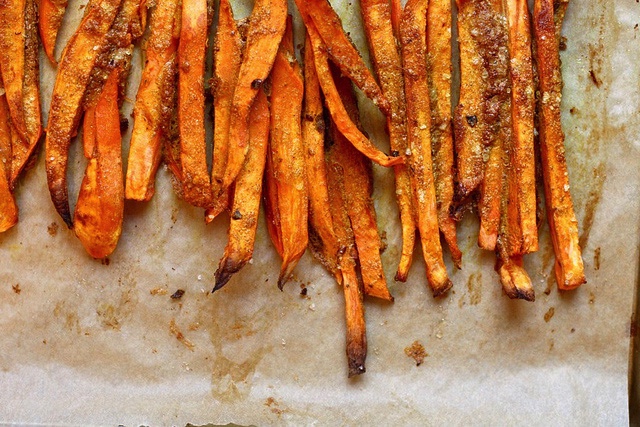 INSTRUCTIONS
1. Preheat oven to 500 degrees.
2. Coat non-stick baking sheet with cooking spray.
3. Peel sweet potatoes. Slice into rounds.
4. Combine sweet potato, oil, and curry powder in a large bowl.
5. Toss to coat.
6. Transfer sweet potatoes to preheated baking sheet.
7. Bake for 10 minutes.
8. Turn fries over after 10 minutes.
9. Continue baking for another 10 minutes, or until fries are golden.
Alternative ways of preparation
Try this recipe without curry powder

Try white potatoes instead of sweet potatoes

Try this recipe with okra
BAKED PORK CHOPS
INGREDIENTS
6 lean center-cut pork chops, 1/2-inch thick
1 egg white
1 cup fat-free evaporated milk
3/4 cup corn flake crumbs
1/4 cup fine, dry bread crumbs
4 teaspoons paprika
2 teaspoons oregano
3/4 teaspoon chili powder
2 teaspoons garlic powder
2 teaspoons black powder
1/8 teaspoon cayenne pepper
1/8 teaspoon dry mustard
2 teaspoons salt
non-stick cooking spray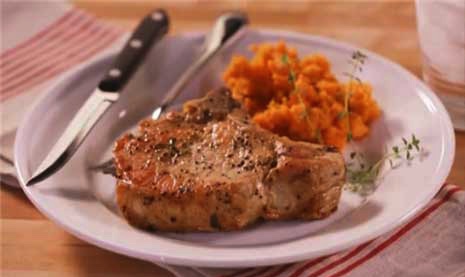 INSTRUCTIONS
1. Preheat oven to 375 degrees.
2. Trim fat from pork chops.
3. Beat egg white with fat-free evaporated milk. Place pork chops in milk mixture and let stand for 5 minutes, turning once.
4. Meanwhile, mix cornflake crumbs, breadcrumbs, spices and salt in small bowl.
5. Use non-stick cooking spray on 13 x 9-inch baking pan.
6. Remove pork chops from milk mixture and coat thoroughly with crumb mixture.
7. Place pork chops in pan and bake for 20 minutes. Turn pork chops and bake for an additional 15 minutes or until no pink remains.
INGREDIENTS
2 pounds of fish fillets
1 tablespoon lemon juice, fresh
1/4 cup fat-free or 1% buttermilk
2 drops hot sauce
1 teaspoon fresh garlic, minced
1/4 teaspoon white pepper, ground
1/4 teaspoon salt
1/4 teaspoon onion powder
1/2 cup cornflakes, crumbled or regular bread crumbs
1 tablespoon vegetable oil
1 fresh lemon, cut in wedges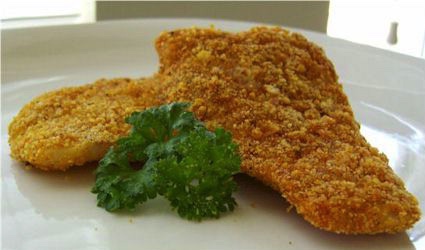 INSTRUCTIONS
1. Preheat oven to 475 degrees.
2. Clean and rinse fish. Wipe fillets with lemon juice and pat dry.
3. Combine milk, hot sauce and garlic.
4. Combine pepper, salt and onion powder with crumbs and place on plate.
5. Let fillets sit briefly in milk. Remove and coat fillets on both sides with seasoned crumbs. Let stand briefly until coating sticks to each side of fish.
6. Arrange on lightly oiled shallow baking dish.
7. Bake for 20 minutes on middle rack without turning.
8. Cut into 6 pieces. Serve with fresh lemon.